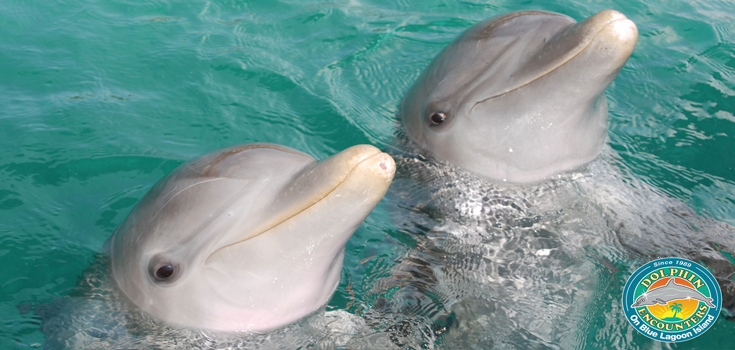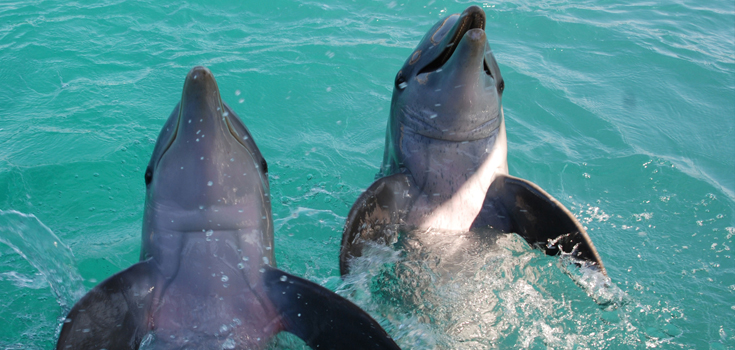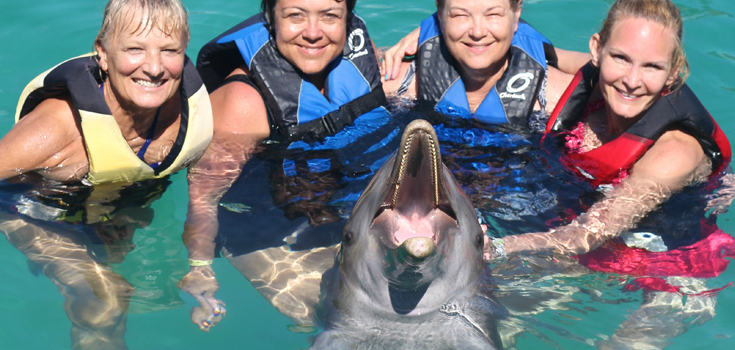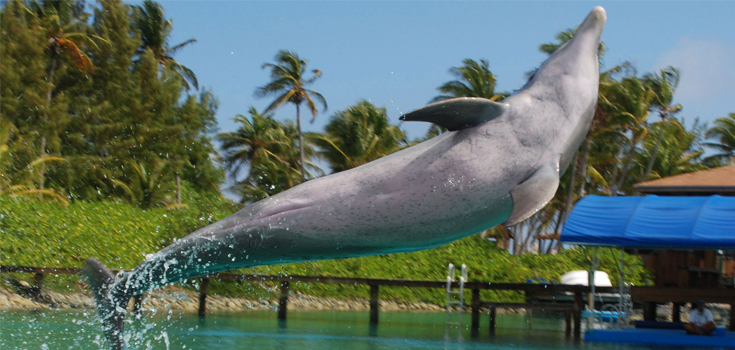 Guaranteed Low Price
No Booking Fees
Hassle Free Reservations
Limited Spaces Available! For reservations call (800) 688-5871. Spaces are extremely limited this time of year so book early to ensure the date you want.
Blue Lagoon Swim with the Dolphins
TOUR SUMMARY
While visiting the Bahamas, do not miss your chance to have the ultimate dolphin swim experience. In our Blue Lagoon swim with the Dolphins package, you and your family will be able to interact with the beautiful Bahamas dolphins in the best way possible. Here, you will not only be able to touch and play with these majestic creatures, but you will also be able to swim through the waters with them. Hold on to their fins or have them carry you on their bottle nose. The excitement you will experience in with our Bahamas dolphin swim tours is unparalleled.
The dolphin sanctuary on Blue Lagoon Island takes up a full three acres. Its features include the habitats for the pod of Bahamas dolphins, the areas for education and training, a kitchen, a lab for photo and video equipment, restrooms with changing facilities, and a gift shop. Your dolphin swim tour will begin with an education presentation where you will learn all about the dolphins, including information about their biological makeup, environment, and behavior. You will also learn the secrets of training these intelligent creatures.
Soon after the dolphin presentation, you will be out in the water with them, putting the training techniques you learned into action. You will spin around with the dolphins, hug them, pet them, and even swim alongside them. You will be amazed at how gentle, friendly, and intelligent these Bahamas dolphins are! We have been running our Dolphin swim tours since 1989, enthralling visitors every single day of the year. This is the highest level of interaction with dolphins you will receive. A full half hour of full engagement with the dolphins, employing the techniques used by the dolphin trainer to interact, play, and swim with these beautiful sea mammals.
Blue Lagoon Swim with the Dolphins Highlights
Full 1/2 Hour interactive SWIM with the dolphins!
Guaranteed to do the Famous Foot Push
Learn a variety of dolphin behaviors
Educational presentation informs you about dolphins
Small Groups of 10 or less
Professional Photographer and Videographer present at all times
What is the difference between the "Dolphin Encounter" and "Dolphin Swim" programs?
In the swim you are completely in the water with the dolphins, while in the encounter you interact with the dolphins from a waist-deep platform.
How much do you spend with each dolphin?
For the Swim, you are in the water for 20-30 minutes with the dolphins.
How large are the ferries?
The ferries are large double deck catamarans that can carry well over 100 passengers.
What is the weather cancellation policy?
If the activity must is cancelled due to bad weather, and you cannot reschedule, you will be issued a full refund.
Where is the departure point for this tour?
Check-in instructions will be included in your activity confirmation email.
What Am I required to bring?
Please bring your email confirmation, towels and sun screen.
You are responsible of making sure you are aware of and understand all restrictions pertaining to this tour before booking online or over the phone. It is your responsibility to ensure that you are medically qualified and within any limits listed below in order to participate in this activity. No refunds will be given to those who reserve a spot and can not participate due to the restrictions listed below. For full details on our cancellation policy click here or with any questions regarding your ability to participate call our staff at (800) 688-5871 with any questions.
Tour Restrictions
Guests ages 6 through 12 must be accompanied by a responsible, paying adult with a ticket for the swim. Parent or guardian must be at least 18 years of age
Guests ages 13 through 17 must be accompanied by an adult (with any paid ticket) to sign the liability waiver. Guest must have the ability to swim to participate
Guest must have the ability to go up and down ladders to access platform
For your safety, pregnant women are not allowed in swim program
For your safety, guests age 5 or younger are not allowed in the swim program & may observe for free if attended on the dock by a responsible parent or guardian with an observer ticket
| | | | | | | |
| --- | --- | --- | --- | --- | --- | --- |
| Mon | Tue | Wed | Thur | Fri | Sat | Sun |